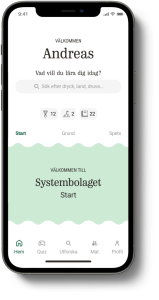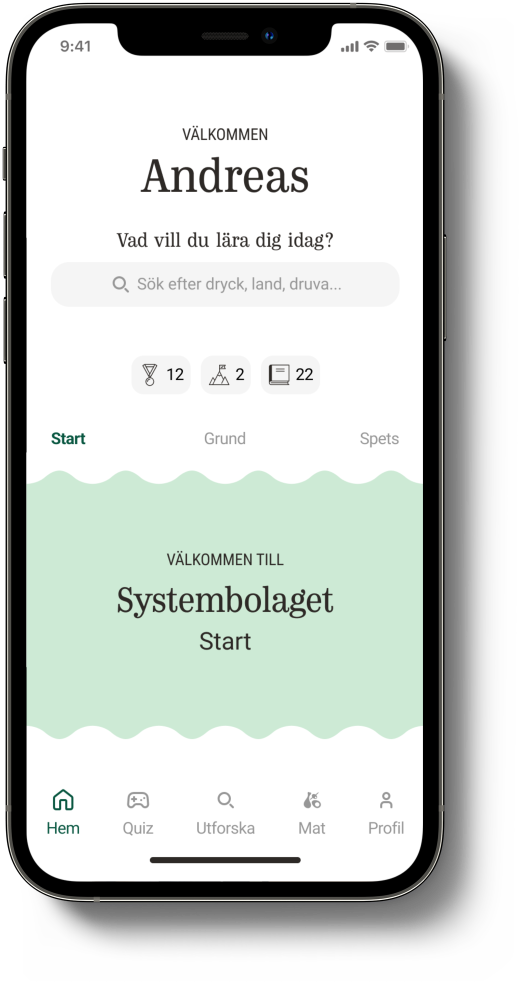 Being new at a job is always very hard. Lots of new informations, impressions, duties that you need to learn and new colleagues to acquaint yourself with. Being an new hire at Systembolaget is no different. In this project I had the opportunity to brainstorm a new improved solution for employees to learn about Systembolaget and their products in a more fun and engaging way.
New employees at Systembolaget face the challenge of having to learn not only Systembolagets range of products and how to give recommendations to customers, but to learn everything at once. This can make it difficult for the newcomers to know where to start when trying to master all the necessary information all at once.
To create an easy and fun tool to help new employees learn about Systembolaget and their products in a more engaging way
Systembolaget is a government-owned chain of liquor stores in Sweden. It is the only retail store in Sweden that is allowed to sell beverages containing more than 3.5% alcohol by volume.
Since Systembolaget is government-owned company, there is a high expectation that they sell responsibly and maintain great service.
While being friendly and helpful comes naturally to many of Systembolagets employees, customers expect a high level of knowledge from employees, which can put pressure on newcomers.
As a new employee at Systembolaget, the responsibility for learning about the company and its products falls on the employees themselves. The approach encourages a "learn-by-doing" method, where you gain 70% of your knowledge by assisting customers on the sales floor, 20% by engaging with colleagues, and 10% from formal training provided by Systembolaget.
This approach can be daunting for new employees because customers often expect them to have extensive knowledge right away. Initially, there's a lot to absorb, making it challenging to figure out where to start since you're expected to learn a wide range of information simultaneously to provide recommendations to customers.
70-20-10 Method

Systembolaget's 70-20-10 method is a structured approach to learning and development. It emphasizes that:

70% of learning happens through hands-on experience and on-the-job activities.
20% comes from interactions and feedback with colleagues and mentors.
10% involves formal training and education.

In simple terms, it suggests that most learning occurs through doing, with additional support from interactions and a smaller portion from formal training.
Kompetensportalen

Systembolaget's Kompetensportal is an online platform designed to enhance the competence and skills of its employees. It provides resources, training, and information to help employees learn about Systembolaget's products, customer service techniques, and other essential aspects of their roles, ultimately improving their expertise and performance within the organization.

Problem: The platform's main focus is on its website, and it has several steps to complete before you are logged in and can start using it. Many of the courses are quite long and majority of them are pre courses to be completed prior to the physical educations at Skarpö. Because of this, it's not often used by employees.
Physical Education at Skarpö

Skarpö is Systembolagets own learning center located in the Swedish archipelago, where employees have the opportunity to learn more about Systembolagets important social mission and specialize within the different fields of beverage. 

Problem: The learning center is in the Stockholm archipelago, making it a long commute for employees from stores outside of Stockholm, especially those in the north. Each store receives an annual budget allocation for sending their employees to Skarpö. However, this budget allocation tends to prioritize employees with higher contracts over new hires and additional staff members.
New employees of Systembolaget find it difficult to help customers on the floor at the beginning of their new job.
New employees wish there was some extra aid or support to learn as a new employee
This project followed the design thinking process over a 4 week period.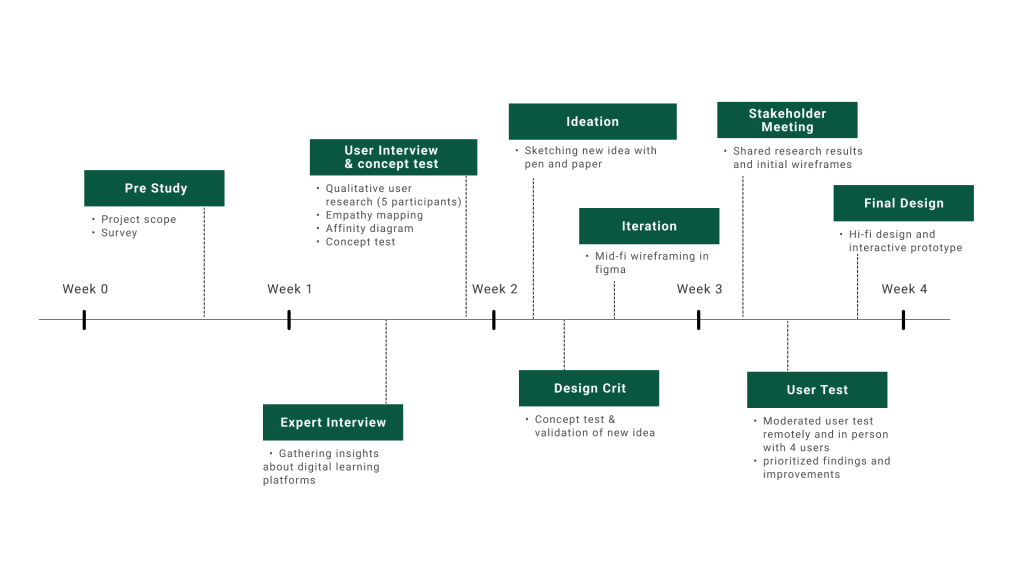 How does the new employee experience being a new and working for Systembolaget? And what do they think about the current learning platforms?
In order to investigate the hypotheses, I chose to use research methods that collected both qualitative and quantitative data. This to measure what, how, why and how many.
In order to test the riskiest assumption and to do the least amount of work to learn the next most important thing I conducted a survey with both open and closed questions.
Research Methods

The target group for the research was new employees and employees who been working extra for 1-2 years for Systembolaget.
The survey was sent out to all of the stores in Västerbotten and the answers was collected during a 7 day period. The key findings and result from the survey then became the foundation for the user interview that was later conducted on 5 participants.

To get some extra insights and tips on how one can help develop material to encourage learning, I conducted an expert interview on a candidate working with developing and designing digital learning platforms.
Since I worked for Systembolaget during the time of this project, one big challenge i encountered throughout this project was to continuously remind myself of setting my own experiences and preferences aside and listen to the users
The answers from the study was sorted in a empathy map in order to synthesize the results from the research. Similar answers were then grouped together using affinity mapping to spot recurring patterns in the responses. From the key findings a problem statement could then be formed and two behavioural archetypes was created.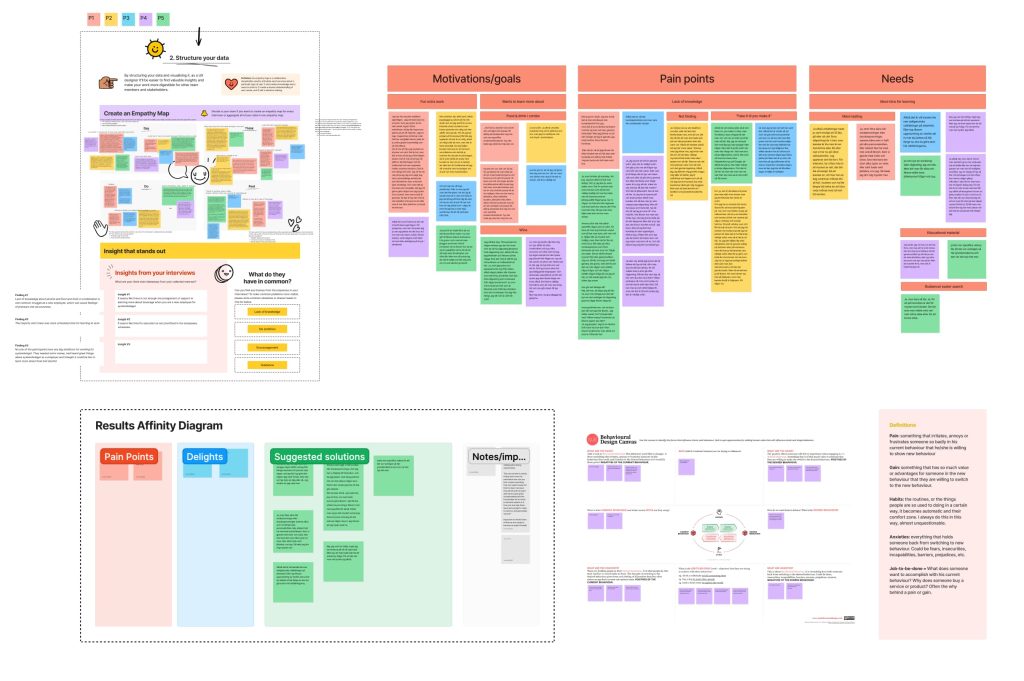 Finding 1

The most common struggle among new employee is often related to difficulties in locating items within the store and having limited knowledge about Systembolaget's products, particularly when it comes to pairing them with food and drinks.
Finding 2

The study found that employees like the idea of the 70-20-10 method, which emphasizes applying theoretical knowledge, but many feel their schedules don't allow for it. One participant mentioned that their small store size limits the opportunity to receive the necessary types and quantity of questions to effectively apply this learning approach.
Finding 3

This study also revealed that half of the participants don't utilize the current learning platform, Kompetensportalen, either due to time constraints, they forget or a lack of understanding about how it functions.
Finding 4

8 of the 10 participants from the survey wished there was another way to learn more about Systembolaget and beverage and 1 out of the 2 who said no wished the current resources was developed 
A new employee at Systembolaget needs more organized learning and support from work in order to feel motiveted to evolve at work.
"Jo, jag håller med att det är bra i teori, men anser inte att vi schemaläggs på ett sätt som möjliggör metoden. Oftast pratar jag med kollegorna i knappt 5 sekunder innan jag måste iväg och göra något.."
Has learnt the basics but does not know what to learn next
Little to no encouragement from boss and co-workers
Feels that there is always something to do at work
Little to no scheduled time at work for education
Has the basic knowledge and would like to get a more intermediate knowledge
The ability to explore by themselves while also get some organized learning
More encourage from work to deepen knowledge
The full time student & extra worker
"Mer schemalagd utbildningstid. Kan handla om typ en digital kurs på 15 minuter en dag. Tror det skulle göra mycket för mig personligen. Sitter ej hemma själv någonting och "utbildar" mig, på grund av brist på tid."
Limited time after work
Does not know where or what to start learning
Work short and few shifts, usually the busiest days of the week


More basic knowledge to feel like she can give better help to customers
More guidance on where/and what order to learn about systembolaget and alcohol
Easy-to-digest material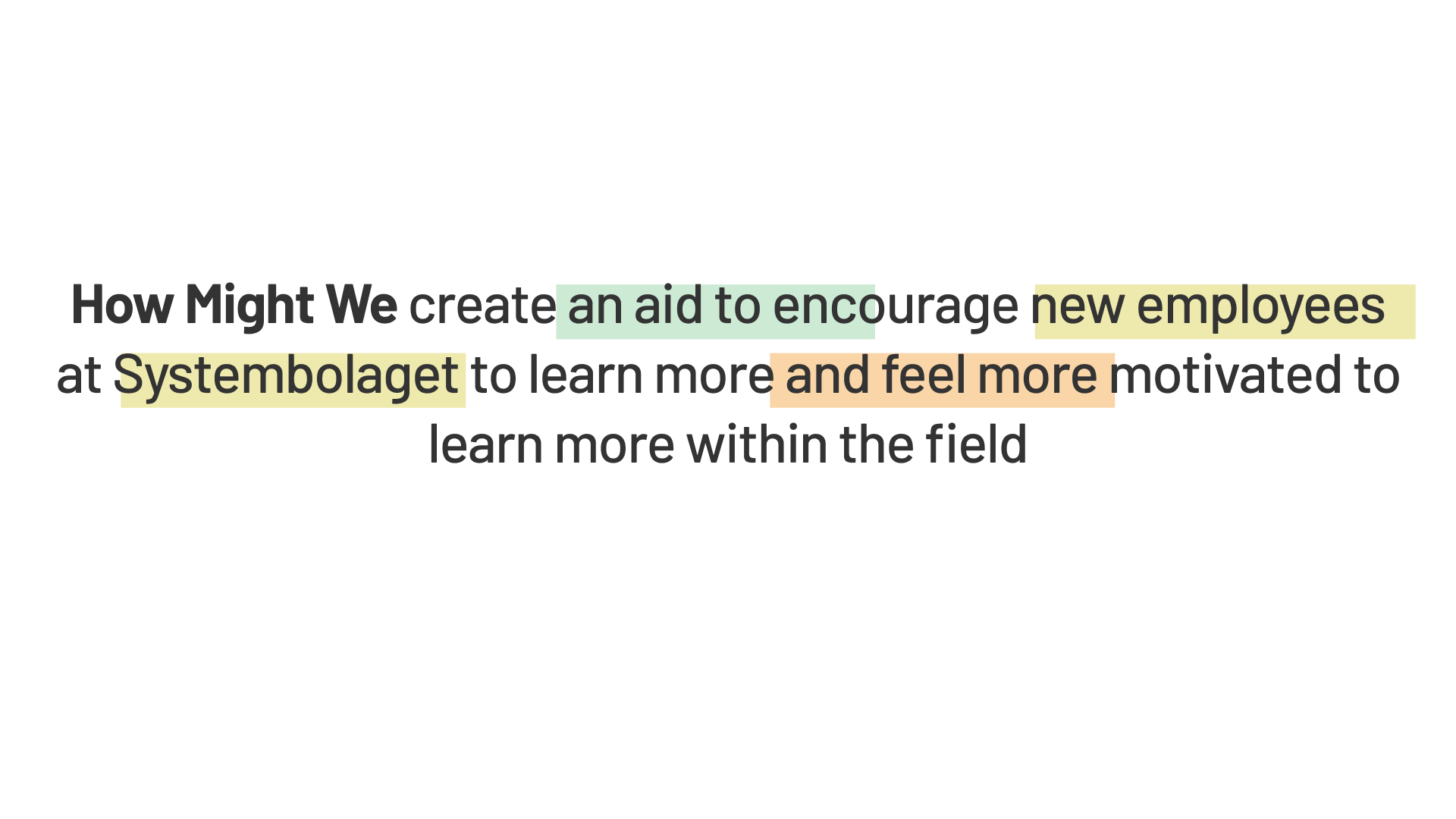 Following each user interview, I introduced participants to a concept I had designed for Systembolaget using Adobe Illustrator a year earlier. To help them better grasp the concept, I imported the screens into Figma and transformed them into a clickable prototype for the participants to explore and comment on.
The concept included:
Reading – where the employees could deep dive and read about different topics within the field
Quiz – a section for the participants to challenge their knowledge and learn in a fun and interactive way
Lexicon – a section for the participants to search for different business terms
Profile page – profile where the participants could track their progress, view saved items, settings and access notes and testing protocols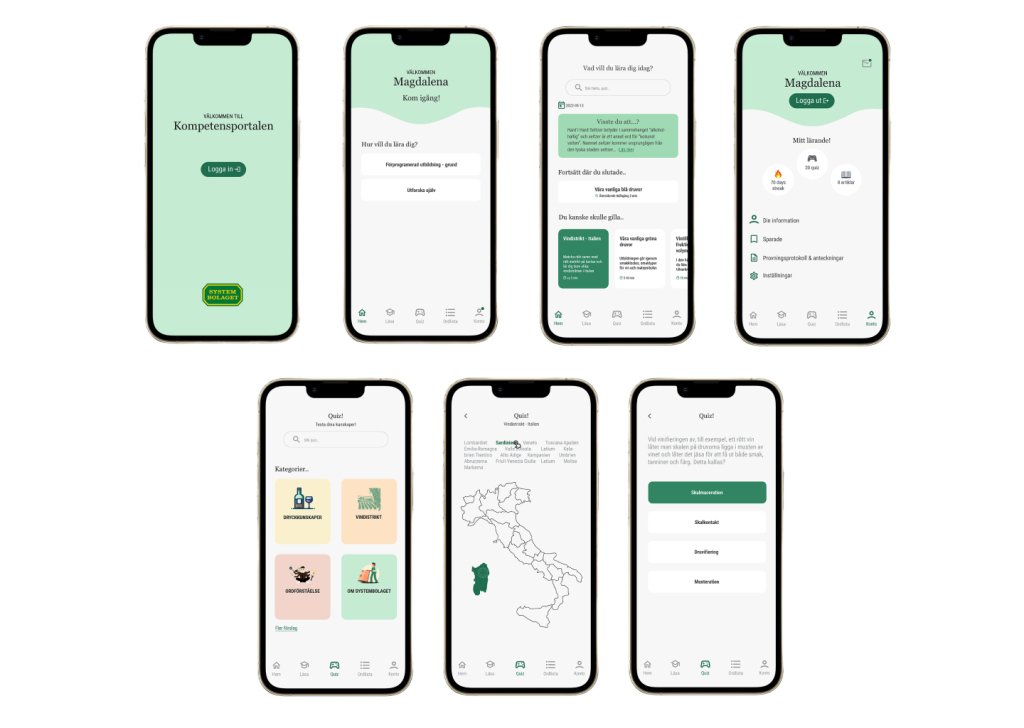 The concept received a lot of positive reviews from the participants. Given the limited nature of the prototype, participants offered valuable insights by thinking aloud and suggested additional features that they believed could enhance the concept's value and these were:
Incorporating a checklist or guidance system to facilitate the learning process and enabling users to track their progress by ticking off completed steps.
Recognizing that many customer inquiries revolve around meal-related drink recommendations, considering a dedicated section focused on "grafen," including food and drink combinations.
Providing the option to unlock different sections to reduce the overwhelming feeling associated with the breadth of available learning content.
Adding a personal profile picture for a more personalized user experience.

Ensuring ease of use.

Implementing an effective search function within the lexicon and offering assistance when users are uncertain about search terms or definitions.
Before moving on with sketching on a new idea, I had a brainstorming session considering different flows and how these suggestions could be incorporated and structured by creating a sitemap.  
One participant although liking the concept questioned how much he would actually use it? A valid question to have into consideration when moving forward with the ideation.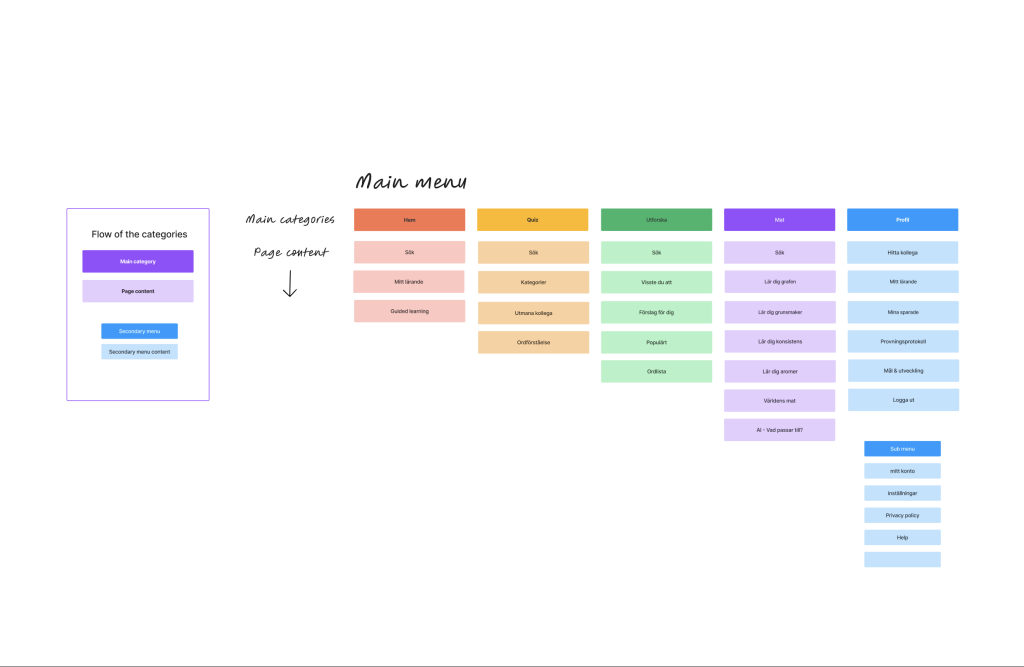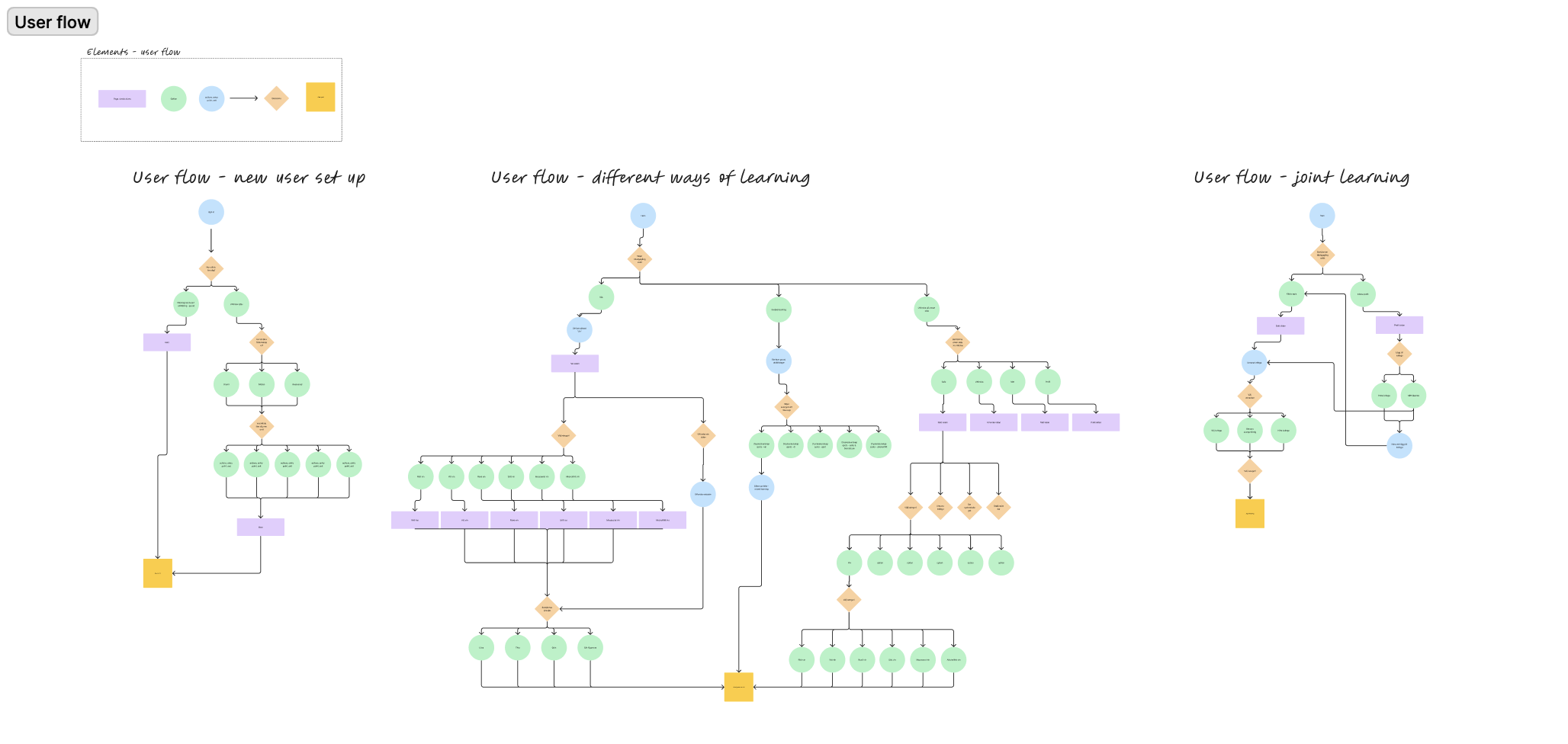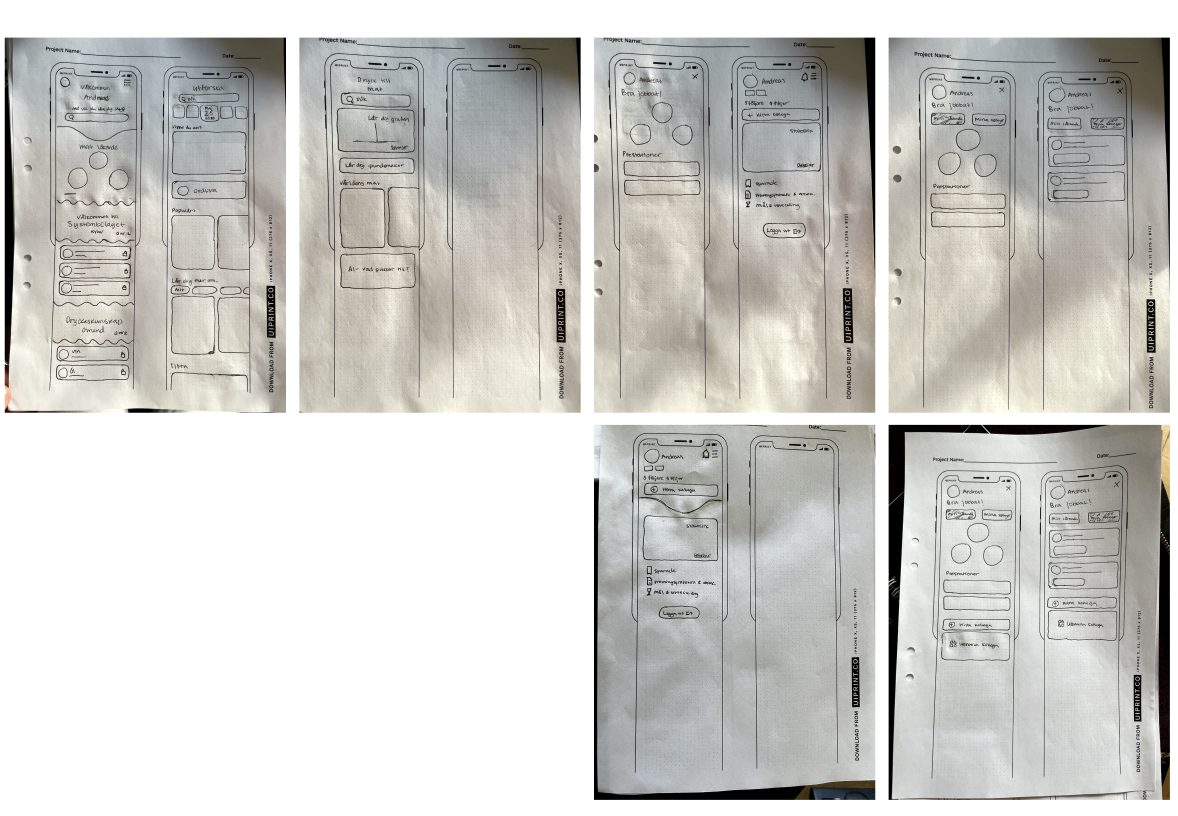 Prior to developing a prototype for testing purposes, I initiated an unmoderated concept evaluation of the new idea. This involved distributing a survey that included images of the preliminary low-fidelity wireframes and questions about the newly integrated features and user flow. 
The new concept included features such as:
Guided learning

A section where the employees who don't know what to learn or in what order can get guidance on where to start.

A step-by-step guide to follow where you can learn everything you
need to know
Helps to give the employees an organized learning and solve the pain point of not knowing where or what to start learning
Helps the employee keep track of their learning and what they need repeat or learn next
Food & drink

A dedicated page for employees to learn more about food and drink in combination.

Helps the new employees to learn more about the tool "grafen" and how one can better give drink recommendations to different food
Helps to solve the pain point "lack of knowledge about food
and drink in combination"
Joint learning

The ability to get support from colleagues and motivate each other with their progress

Encourage to learn together with colleagues to stay motivated
Help encourage and celebrate your and your colleagues progress
To test the new features and make sure that the prototype functioned as it should I conducted a moderated user test on 4 participants
Objectives

Does the user know what he/she can do?
Does the user find it simple to understand how to get started?
Is there anything unclear?
Does the user miss anything?
Does it make them feel motivated?
Goals

The participant finds it easy navigate and use the guided learning
The participant finds it easy to navigate the application
The participant finds it inspiring to see ones goals and progress
Tasks

Can you log in and start the first course?
You have finished the first course, now you want to explore around yourself
Find your progress statistics
Method

I conducted user testing sessions, both in-person and remotely. For the remote tests, I created a clickable prototype using Figma and shared it with the participants. During these remote sessions held in a digital meeting room, I asked participants to share their screens, allowing me to observe and take notes as they performed tasks. I obtained consent to record these remote tests.

Similarly, in-person tests followed a similar procedure, with participants interacting with the clickable prototype while I sat beside them instead of remotely. The key distinction between the two approaches was the physical presence during in-person testing.

The user test was conducted on 4 participants with zero working experience from systembolaget.
Every user understood the overall app features and liked the concept
All the participants liked that you could see a more detailed version of you progress and that it is a nice way to stay motivated.
A clearer hierarchy and priority to the guided learning was needed
All of the participants struggled to find the start button to start the course and need to be fixed
Some confusing wording, icons and flows such as "mitt lärande" "krav" and the listed menu in the top right corner needed to be reconsidered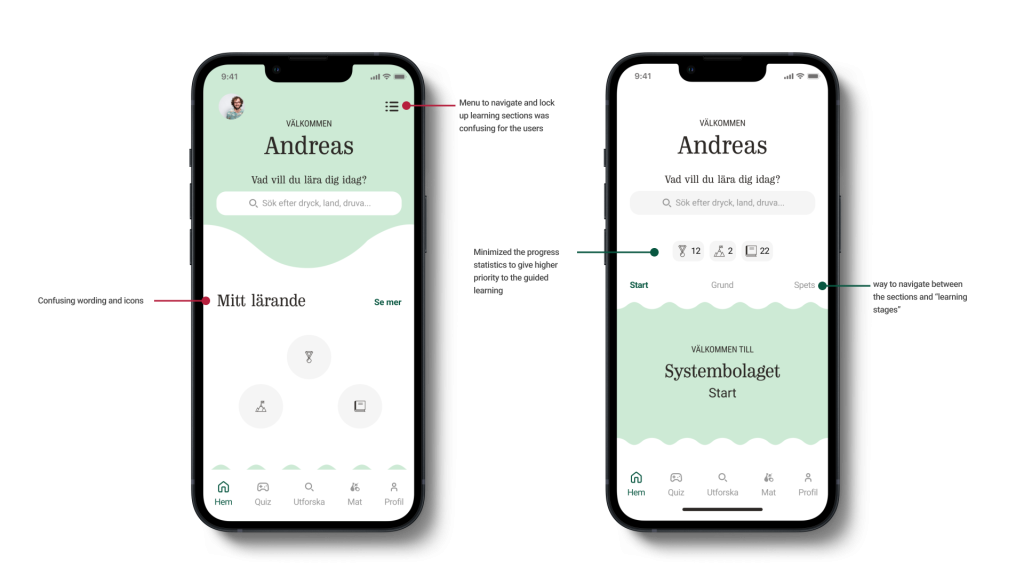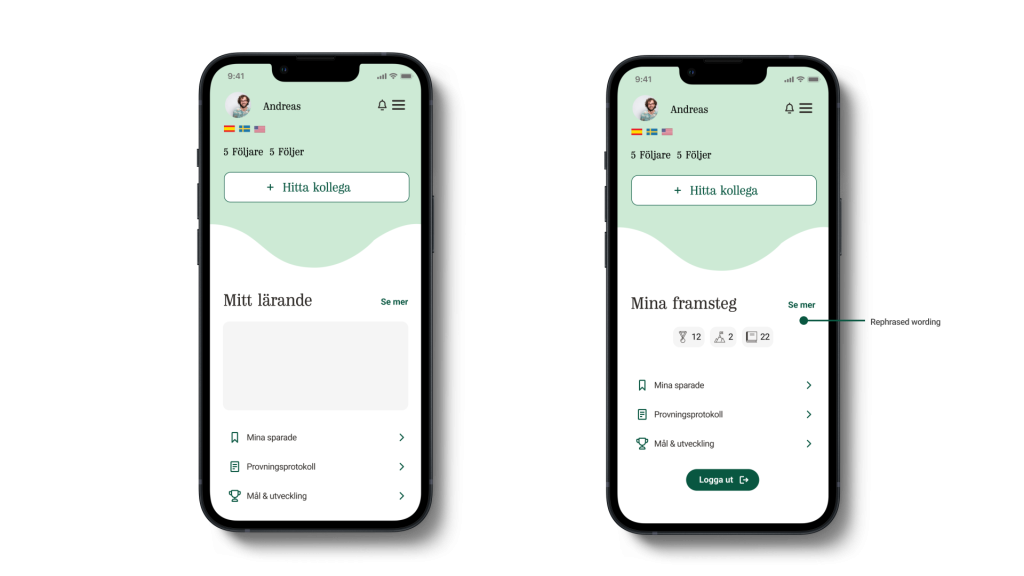 The natural next step for this project would have been to carry out a new user test to examine the new iteration of the concept. Communication with stakeholders and a continued iteration on each feature.
Time management: By doing this project on my own while working, I have learned the importance of planning a project and working with MVP's.
What i will do next time: More user test and earlier involvement with stakeholders